Post-Event Recap: Pistoia Alliance 2022 Collaborate to Innovate Conference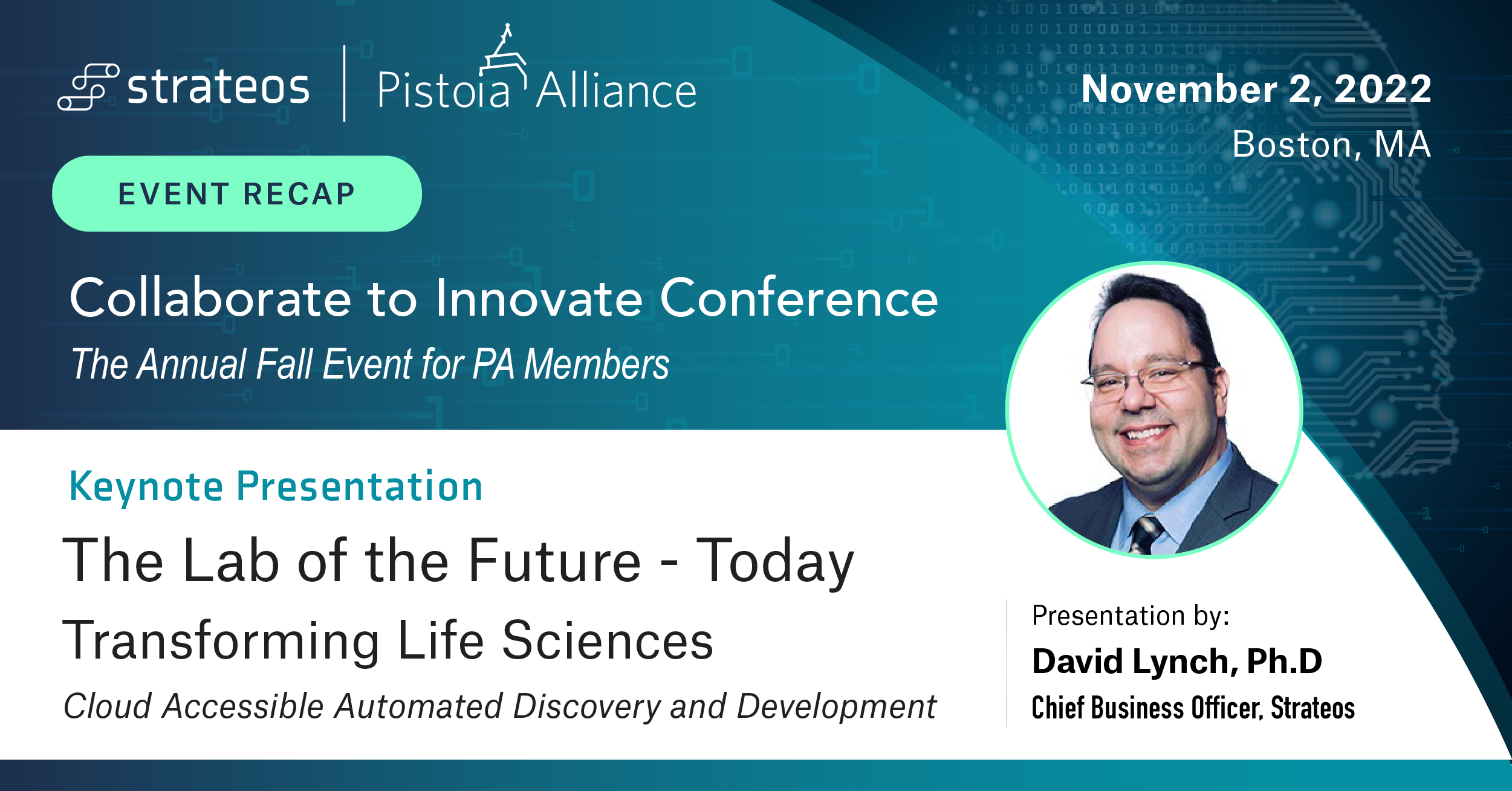 What is the Pistoia Alliance?

The Pistoia Alliance is a global, not-for-profit organization that strives to lower barriers and overcome obstacles to innovation to transform life sciences R&D with a focus on collaboration across all levels from academia, biotech companies big and small to technology providers.
The Alliance fosters pre-competitive collaboration with members working together as equals on projects that will benefit the industry as a whole—whether it is identifying the root causes of inefficiencies, working with regulators to adopt new standards, or helping researchers implement AI effectively—and more!  The goal is to collectively develop new capabilities that will move the industry forward as a whole.
The Pistoia Alliance 2022 Collaborate to Innovate Conference

As an Alliance member, Strateos had the opportunity to dialog with key stakeholders in the industry to network and share ideas at the recent Collaborate to Innovate Conference 2022 of the Pistoia Alliance held between November 1-2nd in Boston, MA.
Additionally, David Lynch, Strateos' Chief Business Officer was able to give an excellent presentation highlighting how digital technology and digital transformation can revolutionize the speed of discovery across life sciences and drug discovery by scaling scientific impact. Here's a brief recap of his talk.
The Lab of the Future-Today, Transforming Life Sciences

David started his talk by looking at the current state of life sciences laboratories. As he explains, unlike other data and knowledge intensive industries like IT and finance, labs in life sciences around the world have changed very little in 100 years. As David emphasizes, the extent of software usage in today's state of the art is electronic record keeping via an electronic lab notebook (ELN).
"Most coffee break rooms have more sophisticated automation than a modern lab today"
As an industry, we need to embrace unified software and automation solutions in order to accelerate scientific discovery, to maximize impact and value across different sectors, increase efficiency, lower cost and remain competitive in the life sciences.

At Strateos, we see a huge opportunity for digital transformation in this space and we are positioned to be the category leader with our technology and services to offer new ways of doing science. And, echoing our client's words—we can't go back to the old ways, we need to be making forward progress to maximize the impact of science on modern medicine.
Strateos LODESTAR cloud software serves as a centralized hub that enables users to access and control our lab, your lab or the lab at your preferred contract research organization (CRO) from your laptop using the same interface. LODESTAR is also suitable for regulated environments, with full traceability and control. With high-throughput lab automation, the Strateos Platform is enabling scientists to design, run, and analyze experiments to reach actionable insights faster and accelerate the discovery of new therapeutics.
LodeStar Advantages

This remote and delocalized access provides flexibility and critical on-demand experimentation capabilities, which brings clear advantages especially as organizations grow to multi-site facilities:
Direct Experimental Control
Full Visibility to Data Generation
Deploy Software & Automation with Strateos Implementation Teams
Fosters Global Collaboration to "Build" Partnerships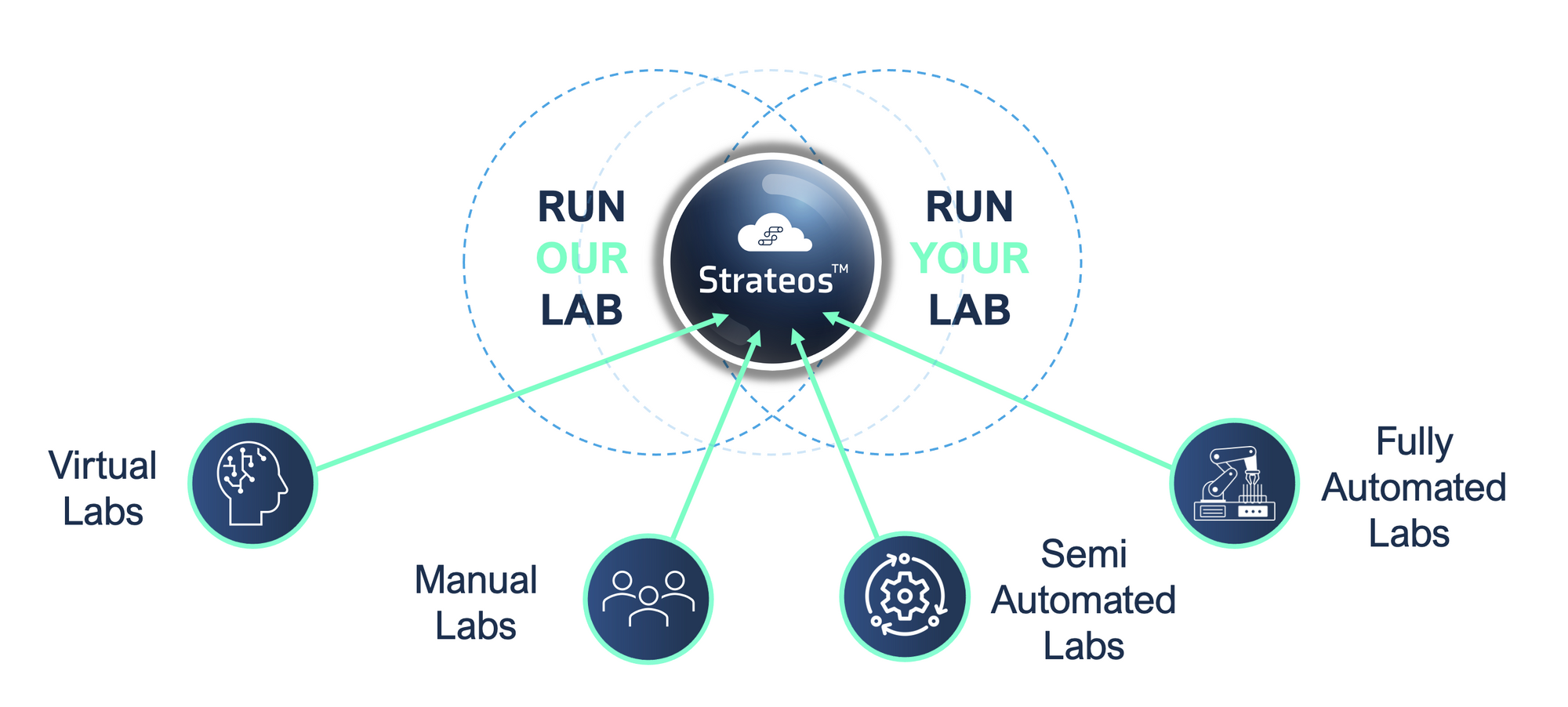 LodeStar and Artificial Intelligence (AI)

This also opens up opportunities to couple AI algorithms and machine learning tools with our fleet of robotic platforms to produce model-quality data iteratively and autonomously for new hypothesis generation, which can help refine experimental models to improve value and rapidly unlock advancements in the scientific research lab. These insights may be used to guide method development or predicting results for novel molecules that can influence molecular design of proteins and other therapeutic compounds.
Having spent years working within the industry, we know firsthand that it can be a challenge for businesses to know where and how to start the digital transformation process. The Strateos Platform provides an integrated solution to support your digital transformation no matter where you are along the continuum. Whether you have islands of automation that need to be integrated or you are just conceptualizing what digital transformation could do for your organization, we have the expertise to help you navigate the process. We offer support for a variety of automation readiness levels with multipoint entries for customer engagement and progression to successfully reshape the labs of the future with effortless automation and software solutions.
Qualifying vs. Quantifying the Impact of Digital Transformation

We've talked a lot about the benefits of digital transformation, but can you actually measure its impact on your business? And why does quantifying it matter?
First, can you qualify the full business impact you get from your current state of Digital Transformation? It's probably not too difficult to think of some examples where incorporating technologies on the digital plane have increased productivity or streamlined processes:
Samples in LIMS have digitalized the process of recording samples, tests and results
Automated instruments reduced human interaction thus reducing human error and simplifying process
Mobile notifications reduce lab foot traffic, reduce wasted time checking on instruments

Now, can you quantify the impact you get from your current state of Digital Transformation? That's a challenge!
The root of this is that there isn't a generalized unit to measure digital transformation or even an index that exists. Yet, it's an important metric to quantify because if we don't, it can lead to unbalanced impact, and unbalanced outcomes of change. And it can be really difficult to justify the capital investment to create this transformational change.
For digital transformation or digitalization, we need to look at the value across 4 core business areas: operations, employee, customer, product. And within each of these segments there are different variables that can be measured with respect to the impact of digital transformation. For instance, within operations, turn around time (TAT) and error rate are important while in the employee realm, job satisfaction and work-life balance are key factors that are affected by digital transformation.  It's entirely possible using this framework that digitalization for an employee could have a negative impact on the customers or the product but could still be the right decision for an organization.
Operational Digital Factors Over Time

Customer Digital Factors Over Time

Employee Digital Factors Over Time

Product Digital Factors Over Time

So, it's clear that it can be difficult to justify the value of this type of change across all areas because of the intricacies associated with measuring it. The good news is that we've been here before with digitization, and we can use that as a roadmap for effecting change through digital transformation as well.
Lesson From the Digitization Era

David first takes a walk back in time to look at the history and evolution of digitization to uncover the key drivers for the transformational change that has rippled across almost every industry.  Digitization exploded for 60+ years 1940's through 2010's, but the idea really started 100 years earlier in 1843 when we conceptualized and created the first mechanical computer to store and process information. Since then, incremental changes occurred, bringing slow but steady forward progress until a general purpose unit for digitization was created.
Digital Transformation Unit (DTU)

This simple act of creating a standardized way to measure digitization resulted in a huge revolution in digitization that sparked in explosive growth and innovation bringing us to where we are today.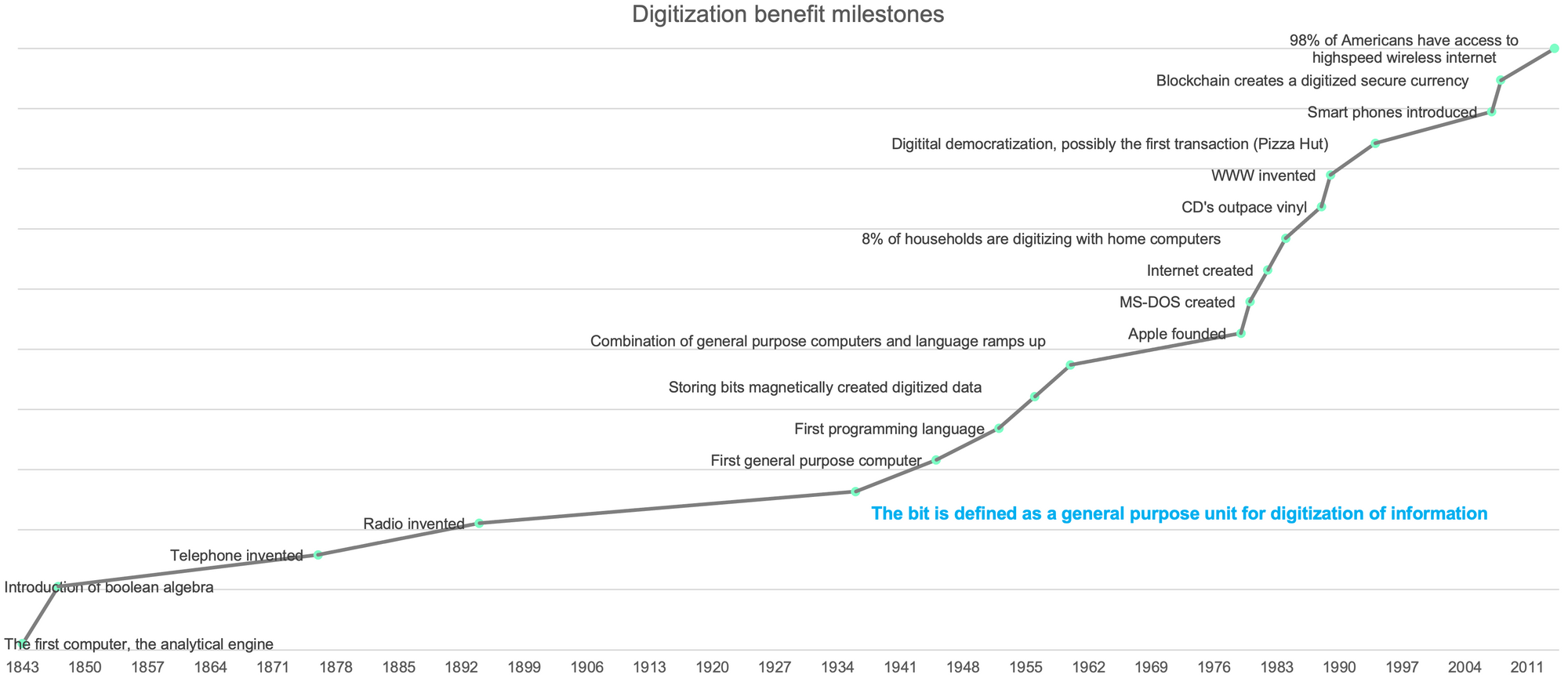 However, digitization is never done. It's an ever-changing target that will continue to evolve as new technologies and processes are developed and we strive to reach the next "100%". The same is also true for digital transformation or digitalization. But, establishing an Indexed Unit, as we did with digitization can help incite transformative change. With an indexed unit, we can use normalized factors to generate a Digital Transformation Unit (DTU) index score. Once we have this index, we can effectively quantify your current state of digital transformation and then also estimate the impact that potential changes could have on your business processes with respect to your workforce, capital investments and more. This metric provides concrete data that can be used to justify "spend" during the digital transformation journey.
Incremental vs. Transformative Scale

During the last part of his talk, David looks at key differentiators between incremental and transformative scaling to really emphasize what Strateos is championing with digital transformation and the DTU.
With incremental change, the goal is to "do more", whether it is to increase the number of antibodies screened or the number of clinical trials executed. This is a linear scale of measure where change is measured in percent of X (i.e., 10% more antibodies screened or 10% more clinical trials). The problem is, this incremental change comes with an incremental cost (time, money, effort) to do more and that's the crux of the problem!
With transformative scale we want to "impact more" with the same capital, time and effort. The key concept is you want to create a multiplier effect to scale your impact—10x more novel molecule discovery insights—not your effort and requires a shift in mindset altogether.
A side effect of the scaling with this Indexed unit is that incremental scale will not register as a significant improvement when measuring with DTU's.
"When we digitally transform using the premise of "scale first", we enable transformative scaling by creating a Multiplier of your Multiplier to give you your Impact2"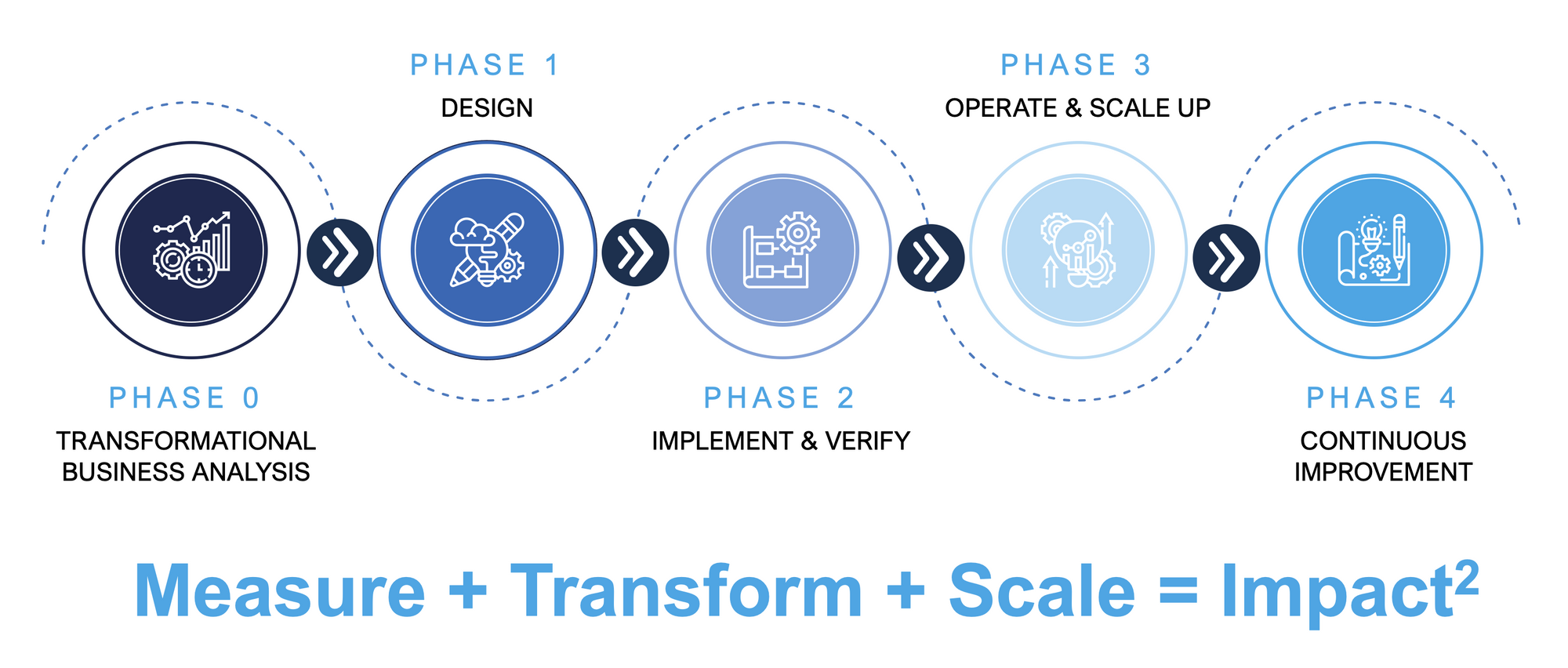 Excitingly, for the first time, we now have a fundamental framework to measure the critical role played by digital transformation, which will hopefully catalyze the type of change we have observed with digitization. It will allow the industry to meet significant challenges and move forward predictably and quantifiably, helping to propel the life sciences into the digital era and move away from the artisanal method of science of the past.

Strateos' Disruptive Technologies

David closed his talk with an emphasis on Strateos' disruptive software and digital technologies are a game changer, being the linchpin to truly realizing the scaled impact of digital transformation that will generate value for the life sciences community and industry as a whole. Strateos is future-focused on bringing the lab of the future to researchers today to fuel innovation and discovery. Our solutions have already created positive change and exciting results for biopharmaceutical giants like Eli Lilly.