Command and Control the Life Science R&D Lab - Webinar Recap
Strateos was pleased to sponsor a webinar on Sept 27, 2021 to discuss how a single unified cloud-based software platform can overcome current operational inefficiencies in life science R&D labs.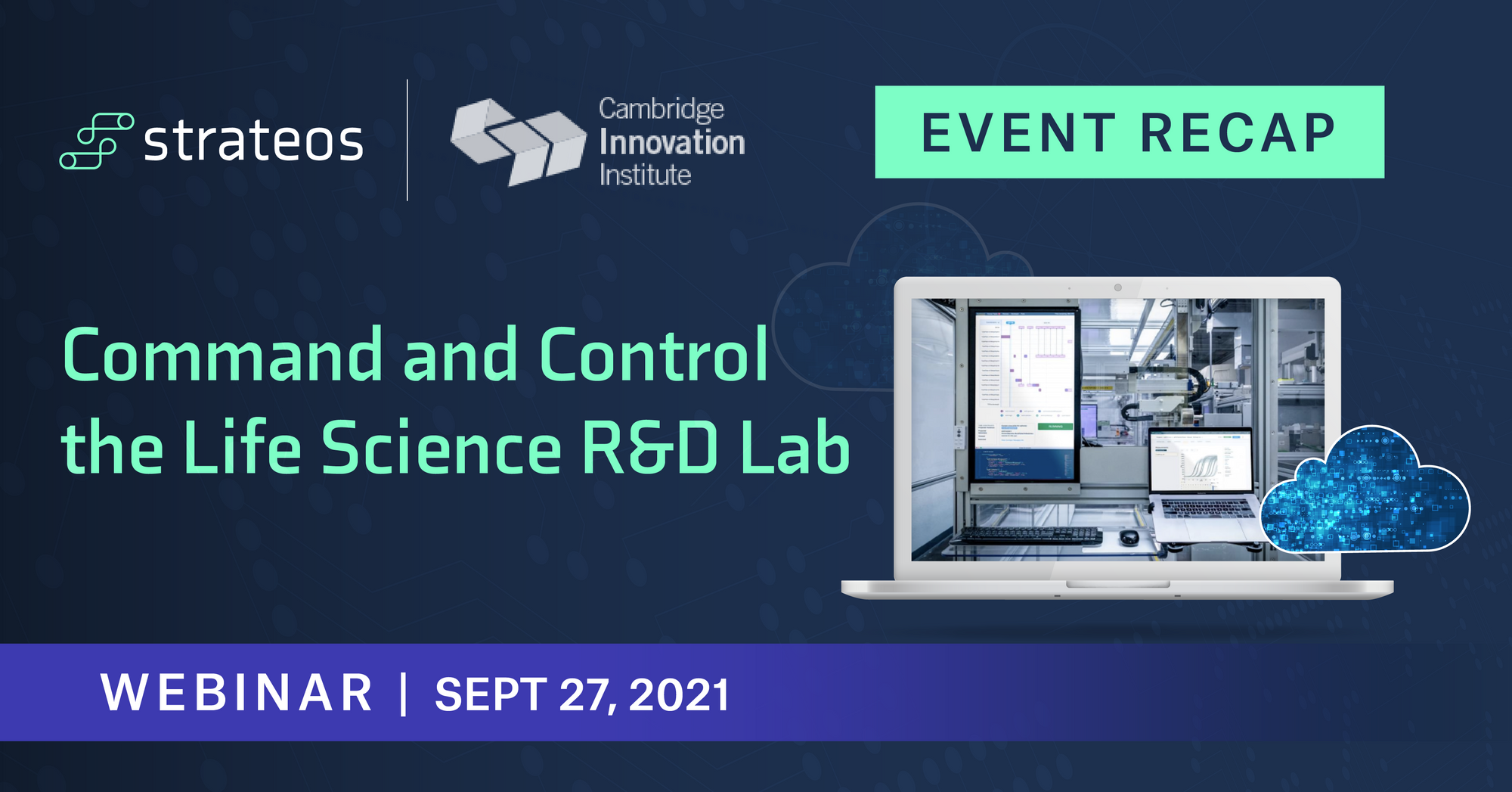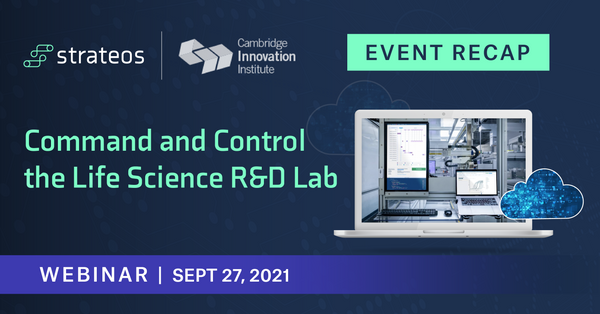 Strateos was pleased to sponsor a webinar on Sept 27, 2021 to discuss how a single unified cloud-based software platform can overcome current operational inefficiencies in life science R&D labs. Alok Gupta, SVP of Engineering, Venkat (VK) Eswarakrishanan, Product Manager, and Vanessa Biggers, Director of Engineering, Scientific Technologies at Strateos led the discussion.
IMPROVING OPERATIONAL EFFICIENCIES PAVES THE WAY TO FASTER DISCOVERIES
There are many operational challenges faced by R&D labs in which there is often a disconnect between different stakeholders involved in the experimental workflow. Typically, non-standardized, siloed forms of communication like emails and phone calls can slow experimental turnaround time and lead to mission-critical information being "lost in translation" as it travels through the pipeline or between individuals. This is even more convoluted with manual data tracking and non-standardized software tools, resulting in traceability and reproducibility issues that can also delay projects and slow workflows.
Strateos aims to overcome these bottlenecks with its latest software offering: Collaborate, the first available product module released (Connect and Control modules coming soon). Modularizing the core components of the Strateos platform so it can be deployed in private labs to establish on-site facility control and toggle between Strateos' automated cloud facilities capabilities enable scalability and resource flexibility to enhance an organization's R&D efforts.

The Collaborate module is focused on solving operational challenges by providing stakeholders with a centralized graphical user interface (UI) to standardize and enhance cross-departmental communication, maximize operational throughput through forward planning, resource allocation and device booking. The software tracks and aggregates information pertaining to the protocols, instrument settings, reagents and more so that the entire provenance of a sample is linked to the data for traceability and reproducibility of results. The goal is to drive faster idea-to-data cycles to help drive the pace of scientific insights and discoveries across diverse fields in life sciences.
MAXIMIZE EXPERIMENTAL THROUGHPUT AND GENERATE CONTEXT-RICH DATA
VK gave a demonstration of Collaborate, which is functionally configured for each persona with features and tools to support their tasks in the experimental workflow through a unified UI. The centralized platform enables all stakeholders to work in unison to rapidly execute an experimental cycle with real-time transparency.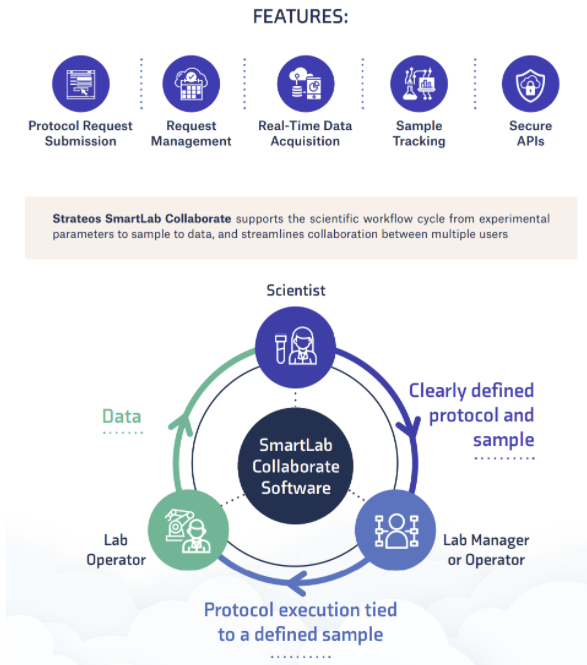 Scientists get alerts from the Strateos platform regarding the progress of the experiment, which can be visualized in real-time. Once a run is complete, scientists have access to all the data linked to each sample (e.g., plate maps for ELISA protocols).
The Strateos platform automatically prompts "next in line" stakeholders in the workflow to improve overall efficiency within an organization and enable generation of clean, AI-actionable data for precision science.
STRATEOS COLLABORATE FROM A DATA PERSPECTIVE
Following VK's walk-through of the UI, Alok Gupta went on to discuss the data categories captured by the Strateos software from the scientific data to device-specific operational parameters (e.g., incubation time, temperature), which is linked to the scientific intent established by the scientist.
Alok pointed out that the software adheres to a device-agnostic schema where scientific datasets from different devices will be automatically normalized and converted into one file type (e.g., .zip, .pdf) as defined by Strateos so that data pipelines can be standardized. Data is easily accessible in the right format from the console so users can move data from Strateos to their own data warehousing tools for rapid go/no go decision-making.
The ability to digitalize and automate a lab's own device infrastructure where hardware and software are integrated seamlessly alongside access to Strateos' remote automated cloud labs via a web-interface on a centralized platform enables scientists to design, control, and collaborate on scientific workflows anywhere, anytime. Generation of clean, AI-actionable datasets can funnel into machine learning tools to further refine the design-make-test-analyze cycle to streamline workflows and overcome bottlenecks that exist today in life sciences.
To view the webinar in full, please click the video below: