SMART LABS, AUTOMATION & TECHNOLOGY SUMMIT IN REVIEW
Strateos was pleased to take part in the 2021 Smart Labs, Automation & Technology Virtual Summit held on May 19th where we engaged with industry leaders to talk about leveraging laboratory automation to increase data quality and volume to improve workflow efficiencies.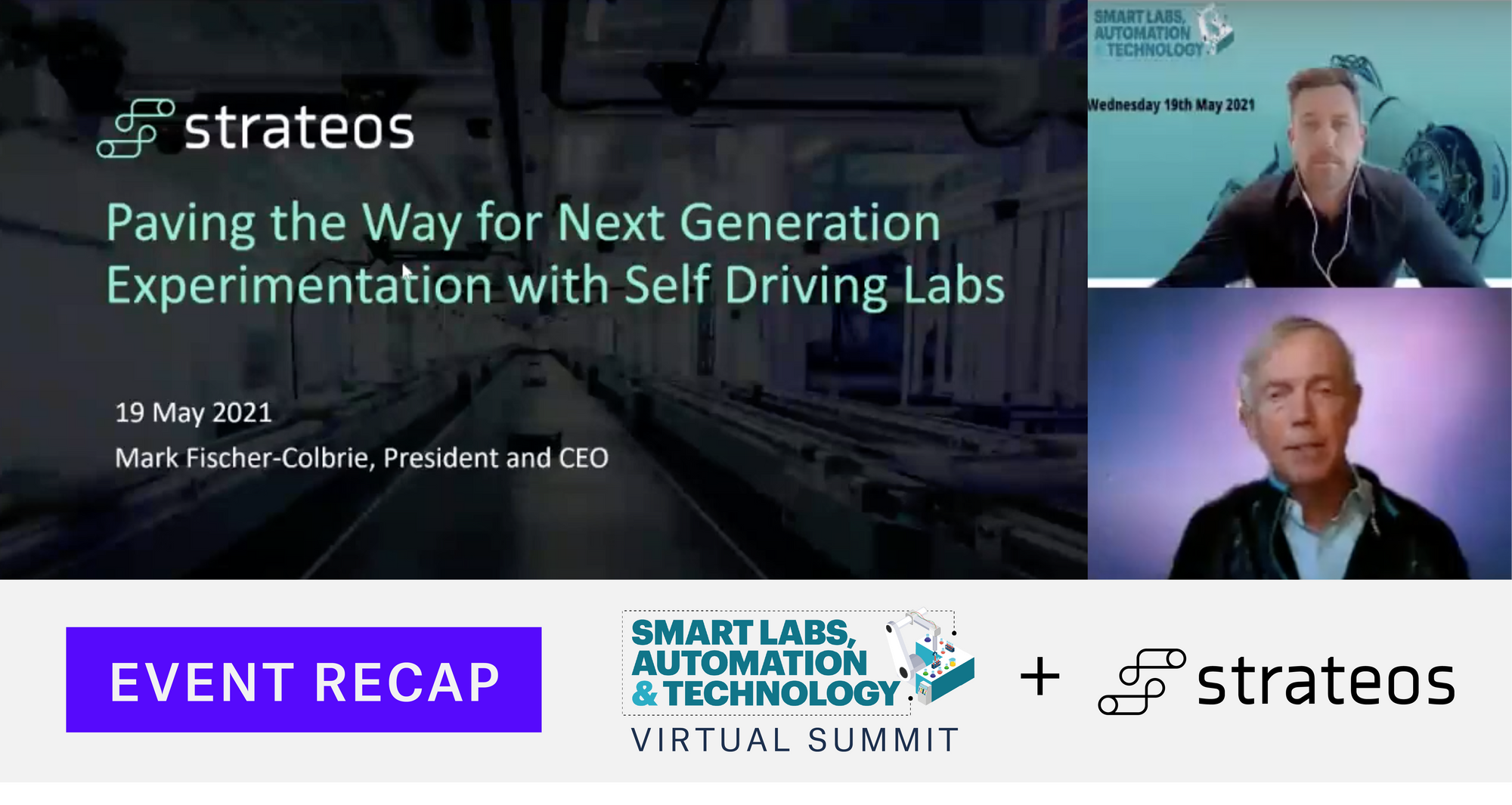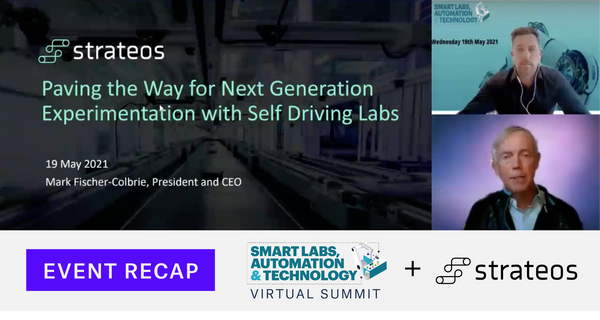 Strateos was pleased to take part in the 2021 Smart Labs, Automation & Technology Virtual Summit held on May 19th where we engaged with industry leaders to talk about leveraging laboratory automation to increase data quality and volume to improve workflow efficiencies.
This year's Smart Labs, Automation & Technology Virtual Summit on May 19th, organized by AMG World, brought together a diverse group of global pharmaceutical and biotechnology professionals to explore the rapidly progressing field of laboratory automation technology. Discussions revolved around risk management strategies and overcoming hurdles to successful implementation across the spectrum of the life sciences applications from small molecule drug discovery, cell and gene therapies and synthetic biology to accelerate early discovery and R&D.
During the Summit, Strateos CEO Mark Fischer-Colbrie delivered a keynote presentation entitled Paving the Way for Next Generation Experimentation with Self Driving Labs focused on how labs can be redefined as data-rich centers to meet the increased demand for HTS capabilities to accelerate global drug discovery and biopharmaceutical programs. Strateos is uniquely set up for faster discovery cycles by enabling scientists to design and execute experiments, acquire and analyze precision data in real-time and collaborate with colleagues worldwide.
Modernizing Life Science Approaches
Mark began by outlining an urgent need for reproducible data, which has hindered faster progress in many areas of life sciences.
In order to overcome this challenge, technological advancements to miniaturize and automate assays and develop intuitive, integrated lab software are needed to streamline workflows and generate reproducible, machine-actionable data over conventional, manual laboratory techniques to speed the pace of discovery.
Strateos is pioneering the modernization of life science approaches with its Smartlab Platform, a comprehensive suite of sophisticated software and robotic cloud laboratories that provide scientists with a closed loop system from experimental inception to data analysis. These 'self-driving labs' allow scientists complete control of tunable experimental parameters and the ability to increase throughput and expand operational capacity by leveraging Strateos' instrumentation infrastructure.
Driving Faster Drug Discovery Cycles
High throughput screening (HTS) workflows are leveraged for drug discovery campaigns where barriers to in-house execution include significant capital investments, and specialized expertise. Outsourcing to a CRO has been the alternative to investing in HTS infrastructure in-house for many researchers but the lack of data access, limited process transparency, and potential for long turnaround times amount to slow cycle times unable to meet desired timelines.
Strateos' Automated Cloud Laboratories execute HTS small molecule drug screening in a reproducible manner with access to near real-time results viewable from anywhere in the world via a web browser. The integration of over 200 instruments with 14 automation modules powered by robotics and software allows for chemical synthesis, biochemical, ADME and cell-based assays and more, across every stage of the HTS drug discovery continuum from initial HTS assay development, hit identification, hit-to-lead and lead optimization with complete transparency.
Customer Success Stories
Mark then summarized several customer case studies that highlight how Strateos' platform can apply to various life science research to generate clean and AI actionable datasets. He details how a common user interface and harmonized data collection helped optimize the design-build-test-learn cycle in complex synthetic biology experiments with multiple stakeholders, reducing cycle time from weeks to 3-4 days.
In another example, Strateos' expertise in assay design and automation was used to accelerate the long process of protein engineering. Highly manual and slow testing procedures limited the experimental throughput to test protein constructs designed by our client's novel AI-driven protein design platform. Strateos was able to create five automated testing modules to replace manual operations, which fed real-time digital data to the client's algorithm for analysis and iteration, effectively reducing testing cycle times by 96% and eliminating the need for hands-on intervention.
In the final case study, Strateos partnered with a large pharma company to develop, optimize and validate an in-silico compound screening model. This client screened our 50K diversity chemical library to identify compounds of interest, which were fed into the computational model for analysis and selection. Leveraging a robotics and automation platform facilitated rapid chemical synthesis, screening and bioactivity confirmation to help our client verify the fidelity of their machine learning model.
Strateos aims to transform laboratory science into information science where reproducible, meaningful data can be generated at scale to achieve new and faster scientific discoveries.
Round Table Discussion with Thought Leaders
The round table discussion moderated by Peter Lee, Director of Science and Technology at Strateos, featured a panel of experts across the academic, industry, and regulatory spaces to discuss the future of smart labs. A key insight from the group on the path to building "smarter" labs is making incremental and modular changes to incorporate automation to improve your scientific processes.
If you missed either talk, we invite you to view both in full to hear the visions of the labs of the future from industry leaders, and learn how Strateos' Smartlab Facilities can accelerate your research!

For more information or a demonstration of Strateos' capabilities, contact sales@strateos.com